Ontario Proposes Sweep to Housing Regulations
Date Posted: November 2, 2022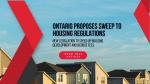 The Progressive Conservative government has promised to build 1.5 million homes in 10 years and introduced new legislation intended to speed up development.
The new legislation will allow up to three residential units on one lot without needing bylaw amendments and free from development charges, they propose to freeze, reduce, and exempt fees associated with new home construction to speed up building, and affordable housing, non-profit housing and inclusionary zoning units will also be exempt from various charges.
While these changes are the bulk of the Conservative's plan, they also said rental builders would see reduced development charges (with larger discounts on family sized units), plans to introduce more housing density near transit stations, and using surplus government lands, modular homes, and rent-to-own programs.
These plans could see many more homes added to municipalities and can now offer more multi-unit lots to be built without as many fees or hassle.
Read the full article here.
Want advice on your plans to build, purchase or sell? Contact your mortgage broker today.