Mortgage Minute: Your Questions Answered
Date Posted: October 31, 2022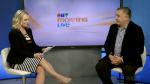 Q: We just got married and are ready to buy our first home together. While I've been with the government full time for four years – my partner has only been there for 18 months and still on a year-by-year contract. Our bank advised us that we won't qualify until we're both full time; but we had friends in the same scenario, and they were approved. Have the rules changed that won't let us qualify?
A: I think it's on a bank basis – in that scenario maybe they need to go somewhere else. If you contact a mortgage broker, they have access to numerous banks and could find a bank that could qualify them based on their situation.
Q: I just went through a separation and would like to buy a house for myself and my kids to live in instead of renting. With the interest rates at elevated levels, I don't think I can qualify on my own, my parents are offering to help, but they do not want to have ownership on the home. Can they sign for the mortgage but not be on the ownership of the home?
A: The difference between a co-signer and a guarantor is that the co-signer gets on title of ownership whereas the guarantor does not. Some banks do not allow guarantors, so if you are in that position, reach out to your mortgage broker who could find a bank that allows guarantors.
Q: We thought we used good judgement by choosing a variable rate mortgage but now our mortgage has increased over $600 per month, and we hear more increases are coming. We are stretched and need cash flow relief, otherwise, we will be using our credit cards for payments and interest rates are even worse. Do we have any options?
A: Anybody that took a variable a year a go did so with good faith. At the time it was a good decision, however, the Bank of Canada mislead people with their assumptions and the problem we face now is constant increases. The difficult decision is locking into a fixed rate or wait. This all is based on inflation and what the future holds. Your options are locking into a fixed rate at 1 or 2 years or a 5-year fixed rate. To explore your options, reach out to your mortgage broker for the best advice.
For more information, reach out to a Mortgage Broker today!
To watch the full CTV Morning Live segment with Frank Napolitano; click here