August Housing Statistics
Date Posted: September 28, 2022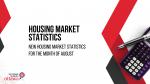 Members of the Ottawa Real Estate Board sold 1,137 residential properties in August through the Board's Multiple Listing Service® System, compared with 1,565 in August 2021, a decrease of 27 per cent. August's sales included 850 in the residential-property class, down 27 per cent from a year ago, and 287 in the condominium-property category, a decrease of 28 per cent from August 2021. The five-year average for total unit sales in August is 1,603.

"August is a traditionally slower month in Ottawa's resale market ebb and flow cycle due to summer vacations. Compounding the slowdown in market activity, Buyers are uncertain about their purchasing power given impending additional interest rate hikes," states Ottawa Real Estate Board President Penny Torontow.

"The lightning speed at which homes were selling at the start of 2022 is a thing of the past, evidenced by Days on Market (DOMs) inching closer to that 30-day mark. We have also observed a return to standard financing and inspection conditions and fewer multiple offer scenarios," she adds.

• The average sale price for a condominium-class property in August was $421,966, an increase of 4 per cent from 2021.
• The average sale price for a residential-class property was $707,712, increasing 5 per cent from a year ago.
• With year-to-date average sale prices at $795,978 for residential and $457,771 for condominiums, these values represent a 10 per cent and 9 percent increase over 2021, respectively.*
• 2,093 properties were listed in August, boosting inventory to nearly 3 months for residential class properties and 2.2 months for condominiums.
Source: Ottawa Real Estate Board
Read full press release here.